Preferred Specifications for Artwork Submission
FILE FORMAT
NOTES
Vector-Based PDF Format
This is the ideal file format, providing the best print quality, fastest file transfer, and which may still allow for further edits if needed. Please review our specifications and required settings before exporting final PDF files.
High-Resolution Bitmap Format
If vector-based artwork is unavailable, we will also accept high-resolution (e.g., 300+ DPI at 100% output size) TIFF or JPEG formats. They should also be converted to the CMYK colorspace, include any bleed area if necessary, and omit any crop/trim/printers marks.
Keep in mind that edits may be more difficult on flattened bitmap files.
APPLICATION
NOTES
Adobe Illustrator CC 2017
Please save into AI, EPS or PDF format with all fonts converted to outlines.

Adobe InDesign CC 2017
Be sure to 'Package' your files to include all linked artwork and font files; also, please export layout to PDF format in addition to main files.
Adobe Photoshop CC 2017
We prefer TIF or PSD formats if available... JPEG is acceptable only if high-resolution (> 250 DPI) AND 'High Quality' compression; also, make sure to convert to CMYK or Grayscale format... conversion from RGB may cause color shifts and add to design cost.
We prefer Final Artwork files to be submitted in vector-based PDF format.
While finalizing your files, they should follow these specifications: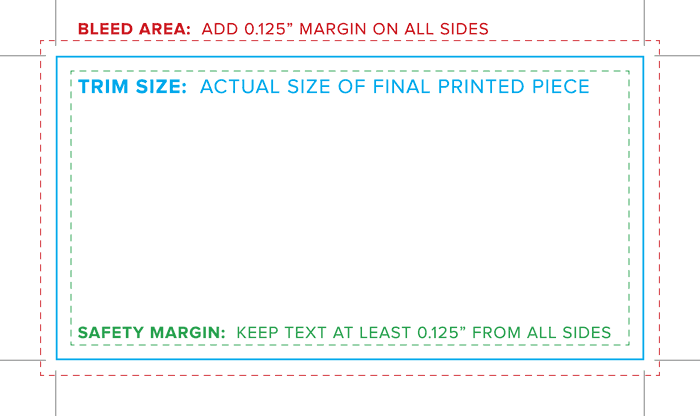 All fonts and editable text converted to outlines
All RGB images and color formulas converted to CMYK and/or Pantone Spot inks
All embedded images at 300 DPI resolution or higher (200+ DPI acceptable for large format)
0.125" (1/8") bleed area outside of trim edges
All text kept at least 0.125" within 'Safety Margins' from trim edges
Crop/trim marks to show final trim size
If your PDF file is unable to meet these specifications, we will gladly help you to convert/adjust your artwork file at our design rate of $80/hr.
A caveat about logos and layout in Adobe Photoshop:
Because Photoshop is a pixel-based (i.e., bitmap) graphics application, it is not ideal for text-heavy layout, and we strongly recommend the use of a vector-based application (such as Adobe Illustrator or InDesign). In most cases, logos are also ideally designed in vector (AI/PDF/EPS) format versus bitmap (JPG/PNG/GIF/TIF).
Vector-based layout provides many benefits, such as:
Fonts and shapes remain as mathematical outlines, instead of being "flattened" into pixels. This gives text and graphic elements a much cleaner, tighter appearance; no matter how high a bitmap's DPI is set to, it won't ever print as sharp.
Much smaller file sizes to deal with, especially with pieces larger than 2 foot square. Posters and banners in particular become very unwieldy as size increases.
More overall flexibility when revising/updating a vector-based layout versus layers in Photoshop.
Much easier output of proof/final PDF files. While Photoshop supposedly keeps its text as vectors when saving to Photoshop PDF, in practice it is more prone to pre-flight issues and general strangeness.
We can help you re-create most Photoshop-based logos and layouts in Illustrator or InDesign, either with advice, or by doing it for you at our design rate of $80/hr.
Microsoft Word, Publisher, etc.?
If your layout is set-up in Microsoft Word, Publisher, or any other software not listed above, please save or print your layout to a PDF file. We can assist you with the steps involved if needed.
However, Word and Publisher are not actually appropriate for professional commercial printing, and typically add extra design time necessary to convert their incompatible output into proper print-ready final files. We highly recommend reserving Word for text-heavy book layout, and not for design/layout projects beyond that. (We also *strongly* advise against using Microsoft Publisher for anything at all!)
We can help you design or re-create your layout in proper graphics applications (e.g., Adobe InDesign/Illustrator), which not only ensures your files will be problem-free for our printers, but also that future edits will not require fixing of final files all over again.
Here are some good articles which further explain the issues that arise from using Word/Publisher:
Additional Information
Here are some useful articles, tips and tutorials that may help while designing your projects for print:
Feel free to contact us with any questions.